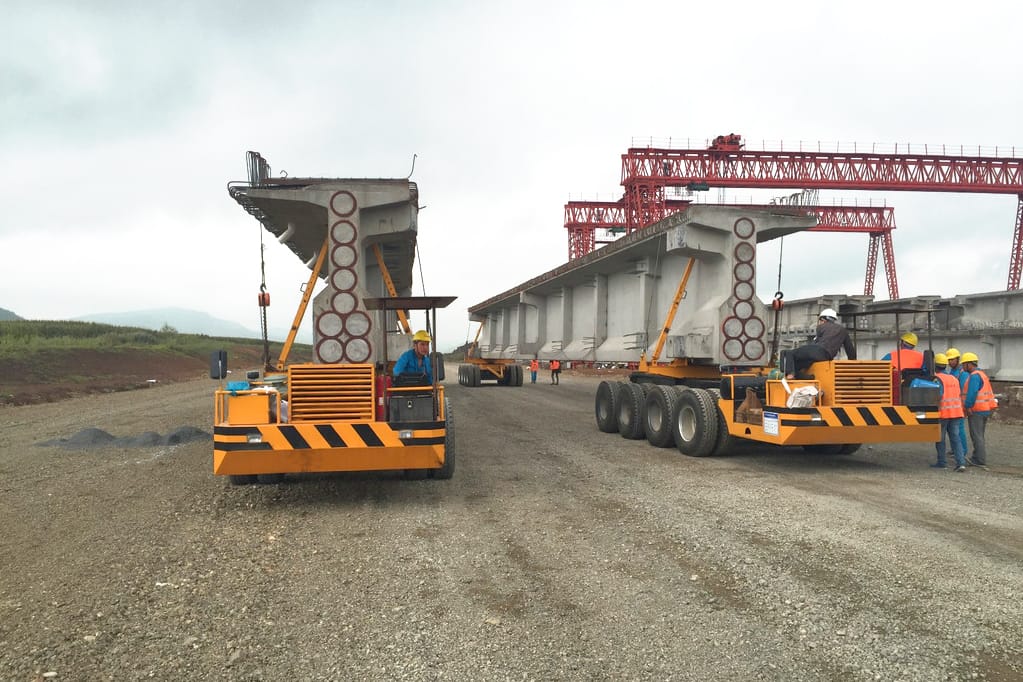 Capacity: 200 t
Power: 132KW (180HP) Diesel engine
Gradeability: 0~5%
Steering: hydraulic proportional control
Speed: 4~700 m/min
Client: China Railway No.5 Engineering Co., LTD
Production Date: 2017
Huai-shao-heng Railway is a class I national railway connecting Huaihua, Shaoyang and Hengyang of Hunan Province. It is a double-track electrified passenger-freight railway.
On December 24, 2013, the feasibility study report of Huaiheng Railway was approved; On June 30, 2014, huaiheng Railway officially started construction; On December 26, 2018, huaiheng Railway officially started operation with passengers.
Huaiheng Railway from Huaihua South station in the west, east to Hengyang East Station, a total of 10 passenger stations and 6 crossing/marshalling stations; As of December 2018, the huaiheng railway is 313.7 km long, with a designed and operational maximum speed of 200 km/h
Beam Carrier
200T Precast Beam Carrier use in site
Henan Dafang 200T Precast Beam Carrier adopts air cooled diesel turbocharged engine, Steil transmission, hydraulic steering, electric ignition start. The whole vehicle is composed of power main car and auxiliary car, which is convenient to drive and changeable to use environment. Price concessions, welcome to consult, Email info@dfcranegroup.com.
Beam Carrier,Precast Beam Carrier